Services
Injury Treatment
Were you in a car accident? Is your neck stiff and/or sore? Does your low back or hip hurt? Do you have headaches?
Were you injured at work? Are you frustrated at having to stay home, in pain?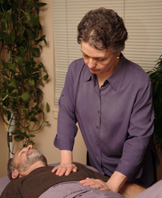 Did you fall skiing, snowboarding, bicycling, or playing basketball? Are you upset at having to cut back on or stop the activities you love? Tired of being in pain?
Did you help a friend move and now you have an aching back, maybe a sore shoulder? Are you thinking no good deed goes unpunished?
Are you enjoying your garden but not able to do as much as you want because you have pain when you bend over or in your hands? Do you want to pull weeds or rake?
Even small injuries can have long-lasting effects. More extensive injuries can have devastating effects. I offer effective treatment to people with recent and past injuries. I can help get you back doing the activities you love.
Chronic Pain Relief
If you have chronic pain (neck, shoulder, low back, knee or other joint pain or headaches), I will develop a customized treatment program for your unique body. Our goal is to get you functioning at or near normal levels, while reducing or even eliminating your pain, and preventing it from returning.
Manual Therapy "Tune-Ups"
You might come for a tune-up because suddenly a new issue has appeared, for instance: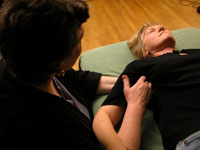 You woke up with a stiff neck and now can't easily turn your neck when changing lanes while driving.
You can't stand straight without pain.
You can't bend without pain.
Whether you are experiencing aches, pains or restrictions of movement, I help return you to your normal activities quickly and safely.
You might need regular tune-ups because you are very active and you rely on me to keep you that way. You have a regular regimen and see me anywhere from once a month to once every 6 months.
You might have a job that requires physical labor, such as a restaurant worker, line worker, or delivery person. I help you stay pain-free and able to enjoy your life.
Neurological Conditions
If you have Multiple Sclerosis, Post-Polio, Cerebral Palsy, Parkinson's or another neurological condition, I help you be as functional as possible so you can live your life fully. I correct structural adaptation problems such as those created by gait irregularities as well as reduce spasticity, if present.
Relaxation and Stress Management
The goal for these delicious sessions is to refresh and restore you, to take you to a place beyond peace, a place of deep relaxation.